The vision of the Union City School District is focused on achieving one crucial goal - to enable all of our students to acquire the skills, understandings and attitudes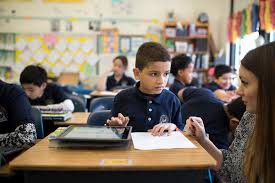 needed to be productive and successful members of our society.
Perhaps one of the most compelling reasons for this vision is its focus on the New Jersey's Student Learning Standards. These standards will ensure our children's success by: setting higher expectations, redesigning curricula that go far beyond basic skills, and establishing learning environments that facilitate active student learning.
To compete in today's global, information-based economy, students must be able to solve real problems, reason effectively and make logical connections. Embedded in our approach to education is an image of children, families, community and teachers working together in making our schools dynamic and creating democratic learning environments.
The passage of the federal school reform legislation, the Every Student Succeeds Act (ESSA) compels us to act now to provide high-quality, equitable educational opportunities to all children in our schools. By encouraging students' maximum human and intellectual development, the Union City School District will promote a commitment to equity and excellence.
Exciting and challenging changes are at hand. New standards based assessments and programs, and a focused vision all figure prominently in promoting and sustaining our goals. We look forward to the challenge and are confident that this educational design will promote sustained academic achievement for all Union City students.
Silvia Abbato
Superintendent of Schools